Scintilla Activities
This page shows an overview of future activities. For some activities there is the possibility to sign up on line.
The iCal and RSS feeds can be found on the top of the page.
WTF does the board do?!?
Tuesday 02 February 2021 12:45, Scintilla Discord [Bestuur]
You sometimes see them working in front of their computer in the SK en they are always present as CCP at your committee meetings, but what else do they do?
Have you always wanted to know what the board actually does? Come by the Scintilla Discord on 2 February in the break and we will explain what all the functions entail and what the board does on a day-to-day basis!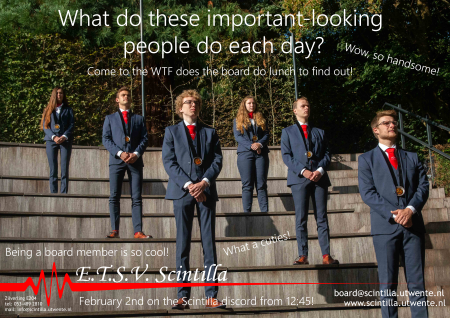 Beer Pong Tournament
Thursday 04 February 2021 20:00, Discord [De Borrel]
Do you miss making poor life choices with drinking games that are bad for your health? The Borrel misses this too! This is why we are organizing a beer pong tournament, so we can pretend for one night that the quarantine depression does not exist.
Sign up for this activity »
Online Committee Market
Tuesday 09 February 2021 20:00, Scintilla Discord [Bestuur]
Learn new things while getting to know your fellow EE students? Join a committee! Tuesday the 9th of February there will be an online committe market again, so join us on the Scintilla Discord.
The booklet with information about all the committees can be found here.