Scintilla Activities
This page shows an overview of future activities. For some activities there is the possibility to sign up on line.
The iCal and RSS feeds can be found on the top of the page.
Kick-In camp for first- and second-year students
Friday 22 October 2021 14:00, Meetingpoint O&O square [SKIC]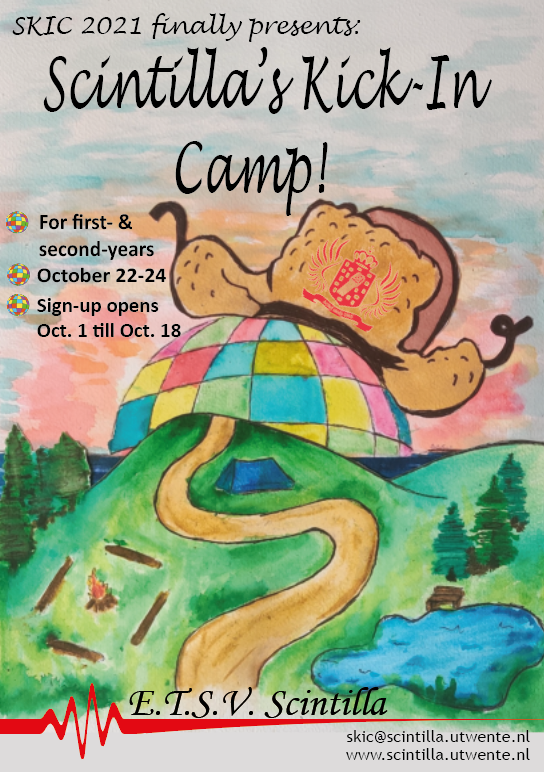 The introduction camp is normally organized during the Kick-In, however, due to the measures, this was not possible in the past two years. With new relaxation in sight, we are optimistic that a camp can still be held for the first- and second-year students. This camp will take place from Friday afternoon October 22nd until Sunday afternoon October 24th, so put this in your agenda!
During the camp you will get to know each other and Scintilla better, but above all you will have an unforgettable weekend. The first- and second-year students are invited, for the first-year students participation costs are €5,- and for the second-year students €25,-. The contribution for the second-year students is higher, because they didn't have a Kick-In contribution. We will always stick to the corona measures, this could lead to cancellation of the camp. In this case, you don't have to pay participation costs.

Testen voor toegang (testing for access)
Due to government regulations we are obligated to use corona access certificates. That means you have to have a valid QR-code whenever you enter the camp location. If you are not vaccinated or have a proof of recovery, you have to get tested twice. Once before camp, once during.
Make sure to have a valid testresult Friday the 22nd of October at 19.00h. To do so, make a testappointment on testenvoortoegang.org. Do so in time! For the testing during camp, you also have to make an appointment. Saturday the 23rd of October at 13.30h in Hengelo is when we have time to be tested, we are close the testing location in Hengelo so plan the appointment there.

Program and packing list
At Friday we will gather at the O&O square at 17:30h and get back Sunday around 15:00h (or 10:00h if you want to leave earlier). You can find the program here. We will bike to camp and this is the packing list.

Sign-up
Registrations will open on Friday October 1st and close on Monday October 18th. If you are not a scintilla member you can still sign-up by writing a email to skic@scintilla.utwente.nl. Please write in the comment section if you are a first- or second-year.

Luggage drop-off
On Fridays it is possible to drop off your luggage at the Abscint (drinking area under the scitnilla room) between 8,45h and 14,00h. A maximum of 1 piece of baggage may be handed in, also 1 piece of baggage will also be taken on the return journey. Don't put your ID in your bag!!
If you have any questions, you can reach us at skic@scintilla.utwente.nl. We hope to see you at this great camp!

We hope to see you at this great camp!
Sign up for this activity »