Scintilla's Activiteiten
Op deze pagina zie je een overzicht van de aankomende activiteiten, met, indien van toepassing, een mogelijkheid om je daarvoor in te schrijven.
De iCal en RSS feeds zijn geheel bovenaan, links boven het Scintillalogo, te vinden.
Digitale lunchlezing ASML
woensdag 16 december 2020 12:45, Online MS Teams [LEX]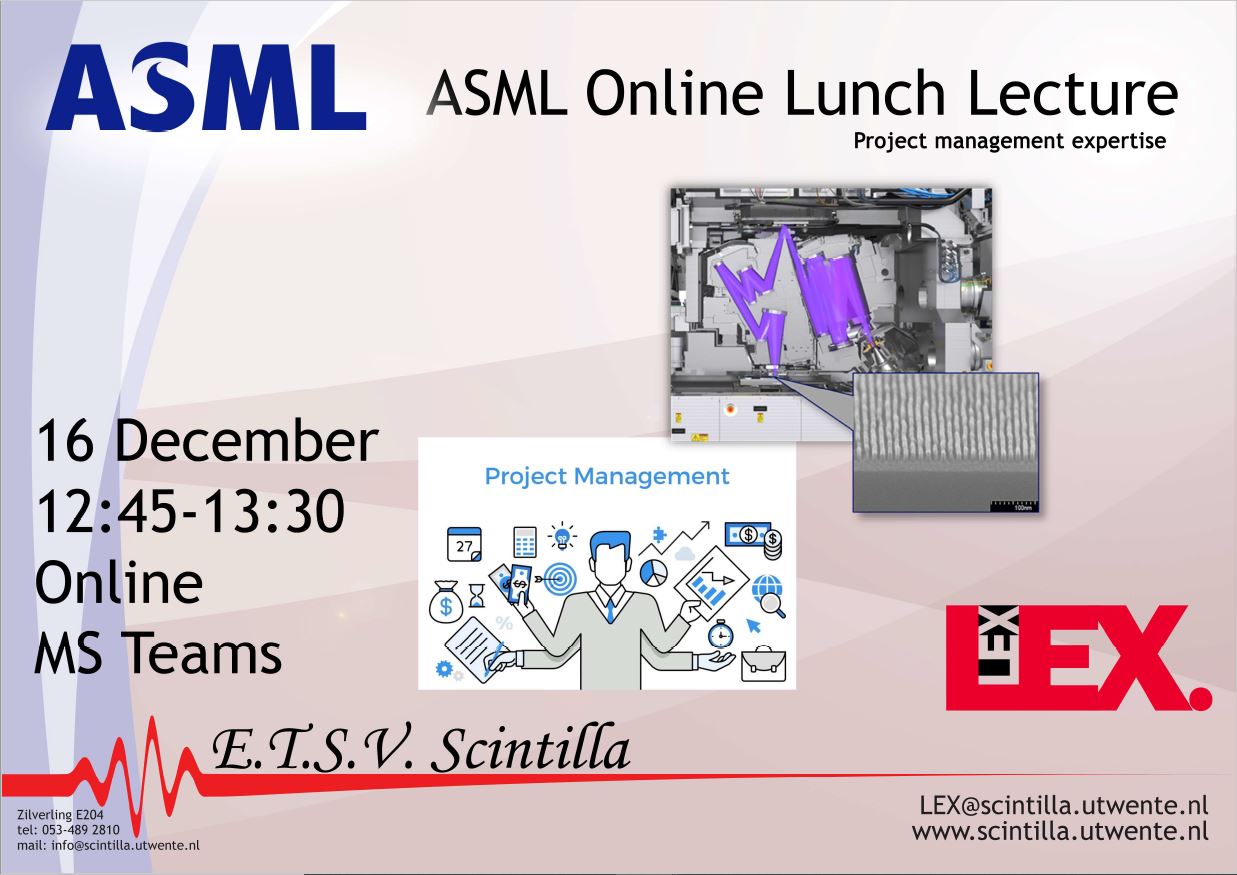 On 16 December, Joseph Zekry from ASML will give an online lecture about project management. If you are interested in attending the lecture, sign up in the sign up list below. NOTE that it is NOT necessary to sign up in order to attend the lecture. Be sure to stay until the end of the lecture in order to receive a gift from ASML!
You can join the lunch lecture via this link:
https://teams.microsoft.com/l/meetup-join/19%3ameeting_ZDM3ZTA1M2MtYjJiYy00ODZlLWFkZjUtNThkNjJjNTQ3MDNl%40thread.v2/0?context=%7b%22Tid%22%3a%22af73baa8-f594-4eb2-a39d-93e96cad61fc%22%2c%22Oid%22%3a%22d5651022-fc15-48b7-b0bb-450dcf002fb5%22%7d

Project Management expertise: how to achieve one common goal with thousands of engineers?
Project management is an advisable skill for any young professional to hone, but working with a team of 20 engineers and hundreds of stakeholders to meet that one target is project managing in a different league - especially when we're talking about measuring errors on a sub-nanometer accuracy level. At ASML, it is no exception that you work in multidisciplinary teams while being connected to a big network including thousands of colleagues to push the boundaries of what is physically possible.

So how do you even begin to align all these people to achieve that tiny goal? How do you make sure that what everyone is working on is still in the scope of the project? Applying lean-agile principles change this seemingly impossible job into a comprehensible approach. Join the ASML lunch lecture to learn how Project Manager Joseph Zekry applies his project management skills to deliver high quality results in an environment of extreme technology while keeping hundreds of engineers focused and engaged.
Inschrijven voor deze activiteit »